Surgical gowns
BARRIER surgical gown Universal
High protection for all-round use with a functional design

-/-
BARRIER Surgical gown Universal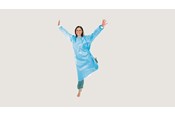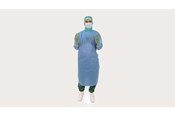 BARRIER® Universal is a light, practical gown that will be comfortable for any member of your team. Ergonomic shoulder pleats allow you to move more freely during surgery.
Made from a fluid-repellent material, our Universal gown offers ideal protection for procedures with medium to high levels of fluids. The design includes long sleeves to reduce cuff movements and glove sliding and help maintain a sterile environment.
Choose our high performance Universal gown with impermeable front and sleeves for even greater protection against strike-through.
Practical generous sizing for universal fit

Long sleeves prevent cuff movement

and

glove-sliding

Fluid repellent material protects against

medium to high level

fluids

Available in Standard or – for added protection against strike- through – High Performance

Our gowns can be included in Mölnlycke® Procedure Packs to support OR efficiency
hidden1
hidden2
Further product information
How to use BARRIER Surgical gowns
Watch our donning guide.