Surgical gowns
BARRIER surgical gown Primary
Comfortable, fluid-repellent gown offering ease of movement

-/-
BARRIER surgical gown Primary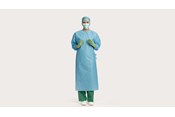 BARRIER® surgical gown Primary is made from nonwoven polypropylene fibres to provide durability and protection. The lightweight material and flexible T-cut design enhance your ease of movement during surgery.

Our high performance Primary gown offers added protection against strike-through – with an impermeable front and sleeves.

BARRIER surgical gown Primary Plus
For enhanced all-over protection, choose BARRIER surgical gown Primary Plus, which is specially treated to form a better barrier to body fluids.
Lightweight, flexible material and T-cut design enhance ease of movement.
Fluid repellent material provides effective protection for low-fluid procedures
Available in Standard or – for added protection against strike- through – High Performance
Also available in Primary Plus – for an even better barrier to body fluids
Our gowns can be included in Mölnlycke® Procedure Packs to support OR efficiency
hidden1
hidden2
Further product information
How to use BARRIER surgical gown Primary
Watch our donning guide.