Heel boot for preventing pressure injuries
Mölnlycke Z-Flex Heel Boot
Fluidised heel boot for offloading pressure over the heel, for best-practice pressure injury prevention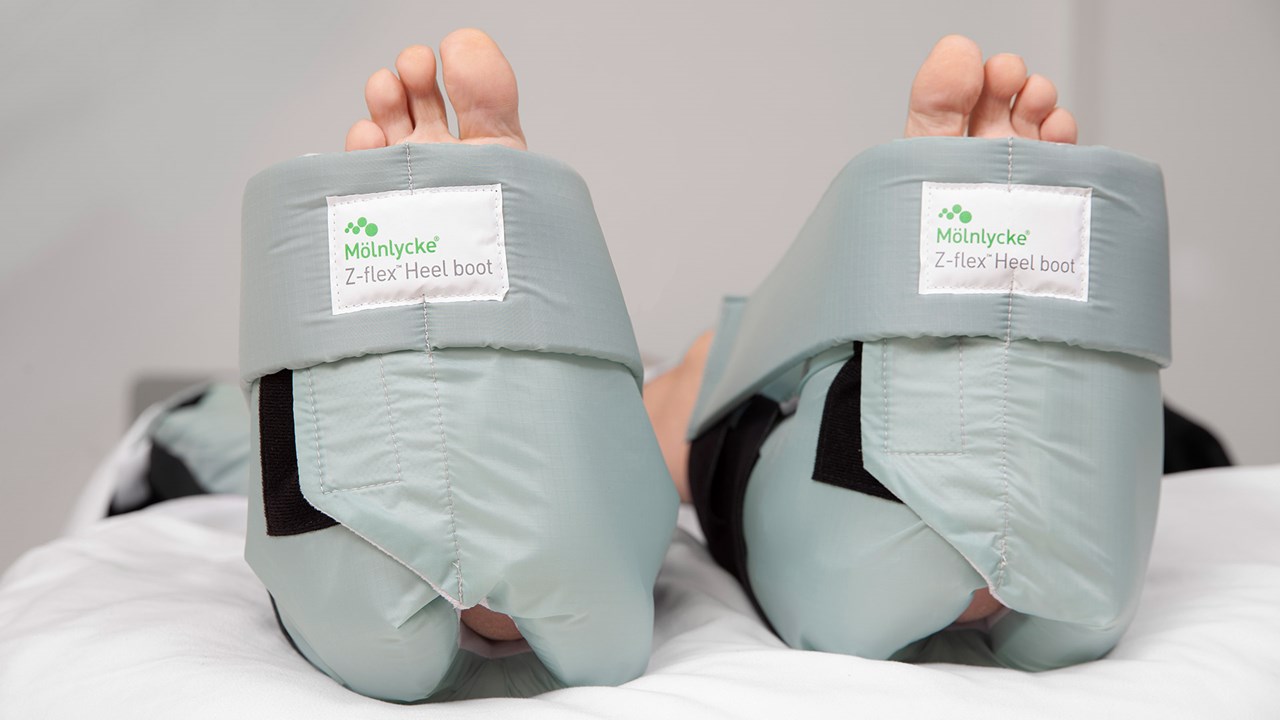 Mölnlycke Z-flex fluidised heel boot
We've heard from clinicians around the world that pressure over the heel is difficult to effectively off-load – because of the small surface area and high tissue-interface pressure. We can help. Our Mölnlycke® Z-Flex™ Heel boot – as part of your team's robust pressure injury prevention programme – can help prevent pressure injuries.
The Z-Flex Heel boot includes a fluidised positioner. This supports the lower leg with a comfortable and anatomically neutral foot position. That foot position is supported by an adjustable ankle positioning strap. So you can customise the position and easily reposition, according to each patient and situation.
Our Z-Flex Heel boot is easy to use – with a built-in gate for quick access, so you can easily assess the patient's skin at each scheduled interval. Plus the design includes thermal regulating material to help keep your patient's legs comfortable for longer.
After the sacrum, the heel is the next-most common site for pressure injury incidence. The heel is also the most common site of pressure injuries for the perioperative patient . Our Z-Flex Heel boot can be valuable contributor to you team's pressure injury prevention programme.
Adjustable shin straps to accommodate a variety of leg sizes
Facilitate use of sequential compression devices
Anatomically neutral foot position is supported by an adjustable ankle positioning strap
Built-in gate allows skin assessment at scheduled intervals
Outlast thermal regulating material helps keep legs comfortable longer
hidden1
hidden2
Further product information
How to use Mölnlycke Z-flex Heel Boot