Turning and positioning System
Mölnlycke Tortoise Turning and positioning
Patient repositioning made easy
-/-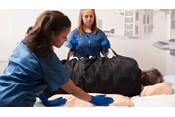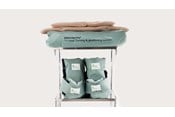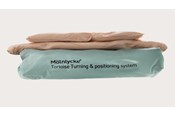 Repositioning a patient effectively is one of the cornerstones of pressure injury (PI) prevention. But repositioning your patients isn't always as easy as it sounds – they can be heavy, frail, or both – so safety is critical to protect patients and you, the caregiver.
What if there was a way to move patients into the right therapeutic position with ease? A way to reduce the physical load when turning, while still enabling your expert hands to maneuver for the best position?
Now there is. The Mölnlycke® Tortoise® Turning and Positioning System is designed to make it easier for you to move patients safely into position with less physical exertion – and it's proven to reduce caregiver back injuries related to patient turning and repositioning.
In more than one facility, staff not only reported greater ability to turn and position patients safely off their sacrum and trochanter, but also the ability of the device to help maintain these positions. And it's regarded by clinicians as easy to use.
The Tortoise system includes a positioning mat with a low-pressure air chamber designed to adapt to the patient by positive air displacement. The low-friction mat is fitted with ergonomic handles on both sides, so you and a colleague both maintain proper body mechanics as you turn the patient. Then, our ground-breaking Mölnlycke® Z-Flo™ Fluidized Positioners can be molded to maintain the right therapeutic position – and this is as simple as you molding the fluidised positioner with your hands into the exact shape for each individual patient.
The Tortoise Turning and Positioning System also has an option that facilitates moving patients into a prone position.

Benefits of Tortoise Turning and Positioning System
Can help reduce the incidence of pressure injuries and associated costs
Reinforced handles with an ergonomic grip to maintain proper body mechanics
Can be used to move patients into a prone position
May save money on specialty bed rental
Helps ease patient turning
Helps redistribute pressure over the patient's sacrum and buttocks
Proven to reduce caregiver back injuries related to patient turning and repositioning

Nurse and staff safety
Nurses and nursing assistants are among the highest-risk occupations in relation to low-back injuries. The lifetime prevalence of musculoskeletal disorders for nurses is 85% – with 79.6% reporting significant loss of productivity. Without proper repositioning tools, moving a patient can result in acute and chronic caregiver injuries. Let the Mölnlycke Tortoise system do the heavy lifting for you. Stay healthy and keep doing what you do best: improving the lives of your patients.

Lower the rent
What is your hospital spending on renting specialty beds for positioning patients? In one Magnet®-designated hospital, transition from previous standard of care to the use of fluidized positioners reduced specialty bed rental costs by $58,000 (USD) – and reduced claims for patient repositioning-related staff injuries by 55% – all in just one year.
Z-Flo, Tortoise trademarks, names and logos are registered globally to one or more of the Mölnlycke Health Care Group of Companies. Z-Flex is a trademark used by Mölnlycke Health Care groups of companies.
hidden1
hidden2
Further product information
hidden1
hidden2
How to use Mölnlycke Turning & positioning system
hidden1
hidden2
Listen to Chenel Trevellini, MSN, RN, CWOCN, talk about Mölnlycke Tortoise Turning & positioning system.