Gelling fibre dressing
Exufiber
Gelling fibre dressing with Hydrolock® Technology for advanced fluid lock-in property for highly exuding wounds
-/-
Exufiber gelling fibre dressing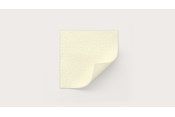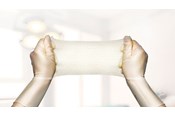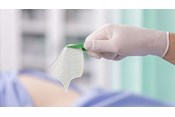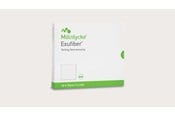 Unlike more traditional gelling fibres, Exufiber® is a non-woven PVA dressing. It transforms into a gel upon contact with exudate, helping it to softly conform to the wound bed. Exufiber can be used to treat a wide range of medium to highly exuding wounds, including cavity wounds.
Exufiber is made with Hydrolock® Technology to both absorb exudate and keep it locked in to the fibres. Exufiber reduces the risk of leakage and maceration, helping to create an optimal healing environment. Hydrolock Technology also means Exufiber stays intact when wet, without the need for further reinforcement, making it easy to remove in one piece during dressing changes. You can use Exufiber in combination with Mepilex® Border Flex a unique combination of Flex Technology and Safetac®
Softly conforms for greater comfort
Locks in exudate to reduce the risk of leaks and maceration
Enables an optimal healing environment
Stays intact for clean and easy, one-piece removal
Combining Exufiber and Mepilex Border Flex, a unique combination of Flex Technology and Safetac, together delivers the benefits of both dressings and promotes an undisturbed healing environment for the wound.
For information tailored to your market, please click on the the button below.
Attention: Products shown on the Mölnlycke web sites(s) may not be available in all markets and product indication claim(s) may vary between markets.
hidden1
hidden2
Further product information
When to use Exufiber
Exufiber can be used for many types of exuding wounds, such as leg and foot ulcers, pressure ulcers, partial-thickness burns, surgical wounds, donor sites, malignant wounds.
How to use Exufiber
See these easy-to-follow instructions for using Exufiber.
hidden1
hidden2
How Exufiber works
The mechanically secured fibres are made of a strong synthetic material that swells upon contact with fluid, locking it securely away. This gives Exufiber higher fluid retention rates compared to many dressings on the market .
hidden1
hidden2
Hydrolock technology – gelling fibre dressings reinvented
Exufiber is made using a patented processing method, with a different material from traditional gelling fibres. This is Hydrolock® Technology: locking in fluid and harmful bacteria and balancing the key features you expect in a gelling fibre dressing.
Viewed under a microscope, you can see that Exufiber is packed full of tightly entangled fibres that minimise the free space for fluid or exudate to flow, which in turn boosts the entire dressing's integrity. The result is excellent tensile strength for easy removal and superior fluid retention to minimise the risk of leakage and maceration.